Can it get any worse for G.U.Y.? I'm going to say N.O. Gaga's third release from ARTPOP has had fans and critics talking - and what they're saying isn't good.
The music video (which is almost 12 minutes in length - including 4 minutes of credits) was shot at Hearst Castle in California. Much of the video takes place in the Neptune Pool, which according to sources was filled with 300,000 gallons of water, chlorinated, and promptly dumped out.
Sure, it's a massive waste of water. But why are so many people talking about it? Because the state of California is suffering from its worst drought of all time. Of course that didn't mean anything to Gaga or her people, though.
Hypocritical Gaga made sure money spoke when she allegedly said she would "donate" $250,000 to the Hearst Castle Foundation, as well as film PSAs to demonstrate to local Californians how to conserve water, in order to use the pool.
Yes, she's going to tell people to conserve water, even though she just dumped 300,000 gallons of it.
Of course, there are some sources stating the water was only "lightly chlorinated" and therefore could be reused - but others are calling that a big fat lie.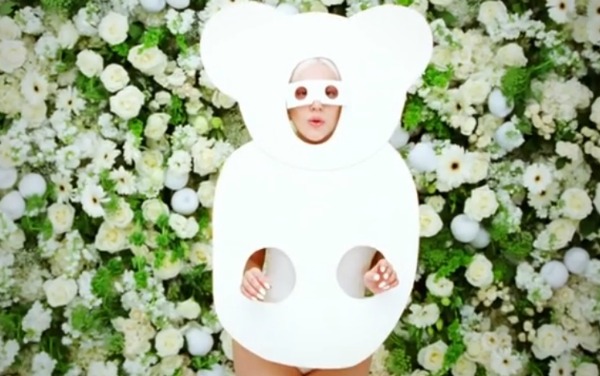 More on the Hearst Castle debacle, though: according to radaronline.
(
http://radaronline.com/exclusives/2014/04/lady-gaga-difficult-diva-music-video-shoot/
), Gaga is a nightmare to work with.
Apparently, employees were forbidden to speak to her for the three days it took to film the video. Wow! She can't even put aside her attitude for a few days to talk to her overworked, underpaid staff?
Maybe that was a good thing. Allegedly, she was frustrated that Hearst Castle remained open to the public during filming.
The castle being open caused a lot of problems with security. Having hordes of her fans at the castle was a major problem and setback - but state law required that they stay open during business hours even during private events and filming... and a Lady Gaga video was no exception.
The video itself had mixed reviews - naturally her fans loved it, but most critics thought it was a ridiculous spectacle.
But was it worth the budget and all the hype?
You tell me.
Sources:
http://www.hitfix.com/news/lady-gagas-new-guy-video-is-a-ridiculous-real-housewives-assisted-spectacle
http://www.foxnews.com/entertainment/2014/04/15/did-lady-gaga-waste-massive-pool-water-in-draught-stricken-california/
http://www.designntrend.com/articles/12803/20140416/lady-gaga-gets-no-applause-extremely-difficult-work-with-during-guy-music-video-shoot-californias-hearst-castle.htmhttp://radaronline.com/exclusives/2014/04/lady-gaga-difficult-diva-music-video-shoot/